In addition to boosting metabolism, breakfast affects the food choices we make throughout the day. If you want to lose belly fat, discover the breakfast to lose belly fat below.
To have a flat stomach, it is essential to add protein and fiber to your diet and reduce carbohydrates. Consider that most breakfasts are loaded with carbs and sugar, which cause insulin spikes, energy highs and lows, and are low in satisfying protein.
A high-protein breakfast helps with weight loss by controlling appetite and keeping you full so you eat less later. But don't forget to add a splash of healthy, fiber-rich carbohydrates from oats to help control blood sugar and blood fat and help with weight loss.
To have a flat stomach, adding protein and fiber to your diet is essential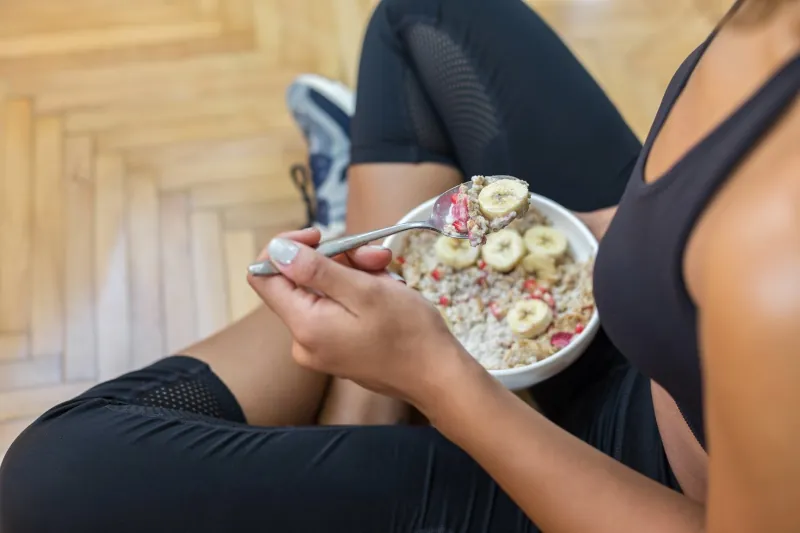 Here's a flat stomach breakfast recipe
---
---
Breakfast to reduce belly fat: Recipe
Here are some of the best belly fat burning recipes that are not only healthy but also easy to prepare.
Protein waffles
These protein waffles are anything but a carb-rich, belly-fattening breakfast. They contain healthy ingredients, most of which are protein-rich, including eggs, Greek yogurt, milk, and protein powder.
Ingredients:
1 egg
1 scoop protein powder
¼ cup oats
¼ cup plain Greek yogurt
¼ cup milk
¼ teaspoon baking powder
¼ teaspoon salt
Preparation:
Mix all ingredients together.
Heat waffle maker, then spray with nonstick cooking spray.
Pour in the waffle mixture, then seal and bake the waffle.
Serve with fresh fruit if desired.
Protein Waffle Recipe
Mint and matcha smoothie
Matcha, which is high in antioxidants, has been shown to increase fat loss by reducing food intake, increasing fat burning and suppressing fat cell formation.
Be sure to pair this smoothie with a protein source like Greek yogurt or eggs.
Ingredients:
1 frozen banana, sliced
½ cup baby spinach
Honey 2 tsp
1 bunch fresh mint leaves
1 teaspoon matcha powder
1 teaspoon wheat grass powder
½ cup ice cubes
¾ cup water
Preparation:
Mix all the ingredients in a blender.
Blend on low speed, then finish on high speed for 1-2 minutes until smooth.
Mint and matcha smoothie
Huevos Rancheros
This breakfast helps keep belly fat under control with the perfect balance of protein and fiber.
Ingredients:
1 can (450 g) whole peeled tomatoes
½ small onion, chopped
1 clove garlic, minced
1 tablespoon chopped chipotle pepper
¼ cup chopped fresh cilantro
juice of a lime
Salt and black pepper to taste
1 can 450g black beans
1 pinch of cumin
8 eggs
8 corn tortillas
Preparation:
Combine tomatoes, onion, garlic, chipotle, cilantro, and juice of half a lime in a food processor and pulse until well blended, but a little coarse. Season with salt and pepper.
Combine black beans, cumin and remaining lime juice in a bowl. Season with salt and pepper. Use a fork to lightly mash the beans, adding a little hot water if necessary.
Heat a large nonstick skillet over medium heat with cooking spray.
Crack the eggs into the pan and cook until the whites are set but the yolks are still loose and runny.
On another burner, heat a medium skillet over medium heat and add tortillas, two at a time. Cook for one minute on each side until lightly toasted.
To assemble the dish, spread the tortillas with beans and salsa on top of the eggs. Serve garnished with coriander leaves if desired.
Use eggs to reduce belly fat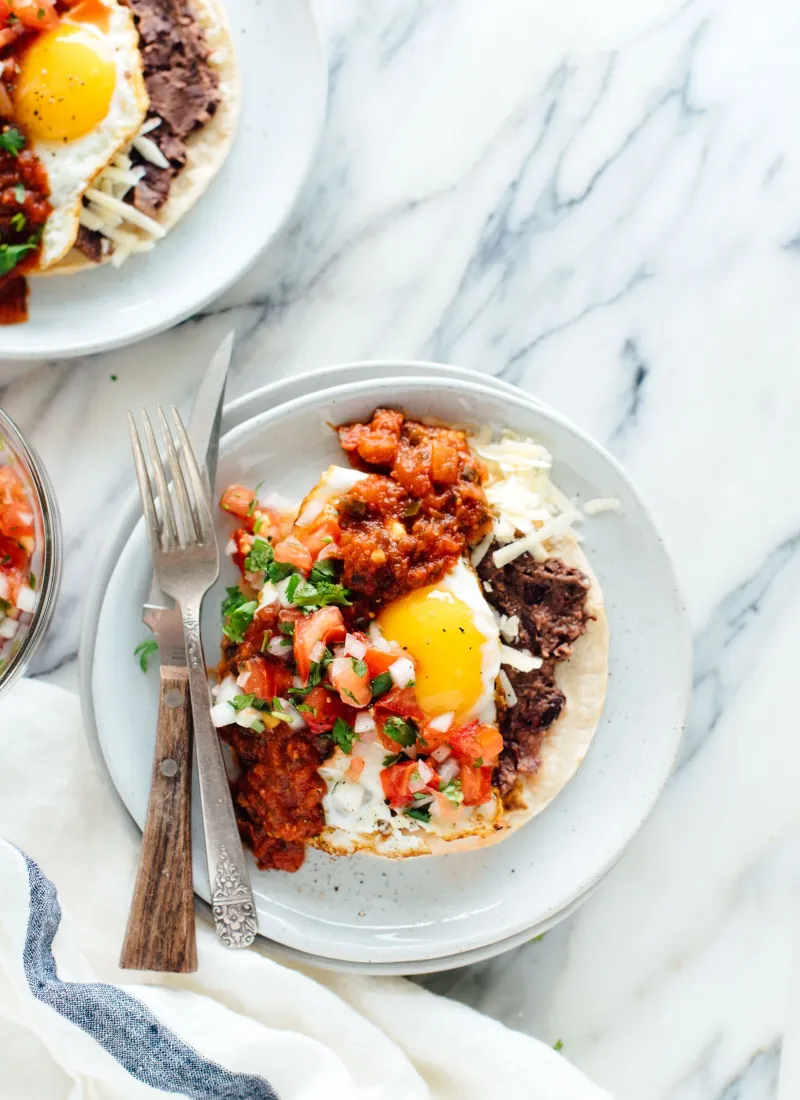 Easy and Healthy Acai Berry Blueberry Smoothie Bowl
Remember that berries can help with weight loss, as they contain a phytochemical that can improve fat metabolism and leptin, which suppresses appetite. Use skim milk instead of whole milk to cut calories and artery-clogging saturated fat, and add a few tablespoons of hemp protein powder for a protein boost.
Ingredients:
100g frozen unsweetened acai berry puree
½ cup frozen blueberries
10 tablespoons plain whole milk yogurt
¼ cup unsweetened vanilla almond milk
Honey 2 tsp
fresh blueberries 2 tbsp
1 tablespoon toasted and chopped pecans
½ teaspoon chia seeds
Preparation:
In a blender, combine acai berry puree, blueberries, 8 tablespoons yogurt, almond milk, and honey.
Cover and blend until the mixture is smooth.
Pour the smoothie into a bowl. Top with remaining 2 tablespoons yogurt, fresh blueberries, pecans and chia seeds.
Try this slimming berry smoothie
Protein Pancakes with Blueberries, Lemon and Ricotta
At just 310 calories, this breakfast is perfect for weight loss, providing satisfying protein from eggs, low-fat ricotta, and Greek yogurt.
Know that adequate protein intake is also essential to speed up metabolism and burn more fat, as protein is essential for building lean muscle tissue which boosts metabolism. Yogurt provides gut-friendly probiotics and a healthy gut microbiome has been linked to reduced body fat. Wild blueberries and lemons are packed with antioxidants that improve blood flow.
Ingredients:
2 cups frozen wild blueberries
½ cup of water
¼ cup brown sugar
1 cup plain Greek yogurt
1 cup low-fat cottage cheese or ricotta cheese
3 eggs
juice of a lemon
1 cup white whole wheat flour
½ teaspoon of baking soda
1 pinch of salt
Preparation:
Combine blueberries, water and sugar in a saucepan.
Cook over low heat, stirring often, for 10 minutes or until blueberries begin to break down.
Whisk together yogurt, cheese, eggs and lemon juice in a bowl.
In another bowl, combine the flour, baking soda, and salt. Add the flour to the yogurt mixture and stir until combined.
Heat a large skillet over medium-low heat.
Coat with nonstick cooking spray and add batter in large spoonfuls (about 1/4 cup each).
Cook when pancakes start to bubble on top, 3-5 minutes, and until browned on second side.
Serve with blueberries.
Blueberry Protein Pancake Recipe
Yogurt with coconut and cinnamon
Thanks to its healthy fats, coconut butter will help fill you up, while the protein in Greek yogurt will give you enough energy for the day.
Ingredients:
170 grams of Greek yogurt
1 teaspoon coconut butter
1 tablespoon grated coconut
cinnamon
Preparation:
Mix coconut butter and grated coconut with Greek yogurt.
Garnish with cinnamon and serve.
Yogurt with coconut and cinnamon
Breakfast to reduce belly fat: What foods to avoid to reduce belly fat?
If you want a flat stomach, say no to these eight foods:
Refined sugar helps raise insulin levels in the body, which causes fat storage.
Soft drinks contain empty calories that are fattening, not to mention high amounts of sugars and artificial sweeteners that contribute to poor health.
Dairy products can cause bloating. If you feel bloated, choose lactose-free milk.
Alcohol slows down your metabolism and causes you to store more as body fat.
Refined carbohydrates such as bread, potatoes and rice cause a spike in insulin which lowers the resting metabolic rate.
Fried foods contain sodium and trans fats.
Excess salt causes water retention and bloating.
Here are the foods to avoid for a flat stomach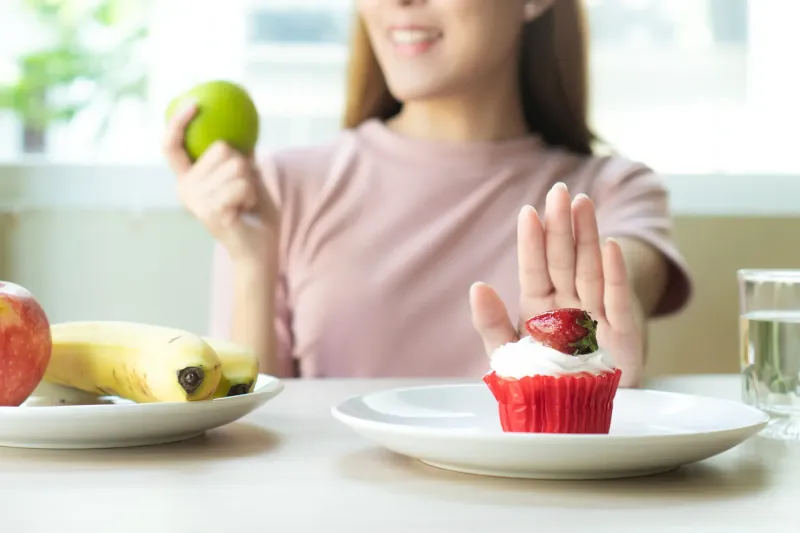 Fried food and salt retain water
Choose good food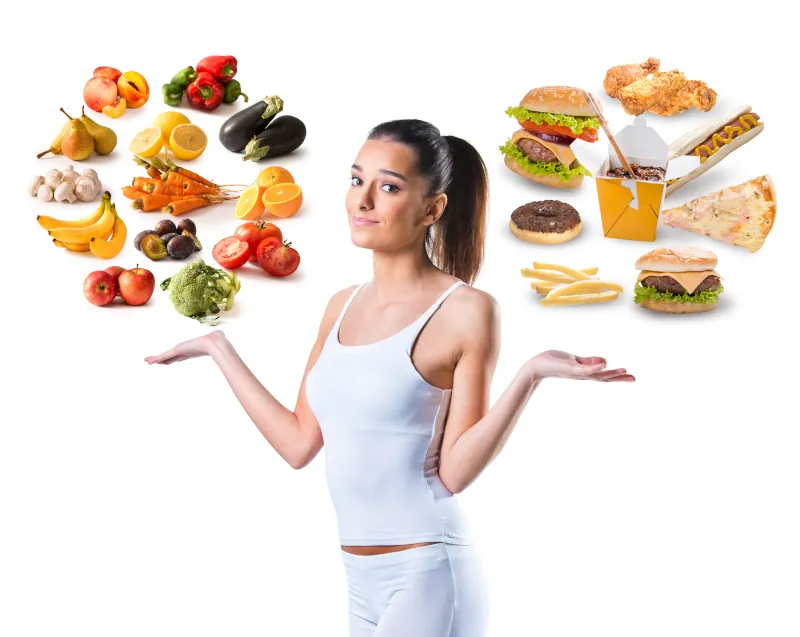 Breakfast to reduce belly fat
Bet on fresh fruits for a flat stomach
Source:
eatthis.com ©
nutritiouslife.com©